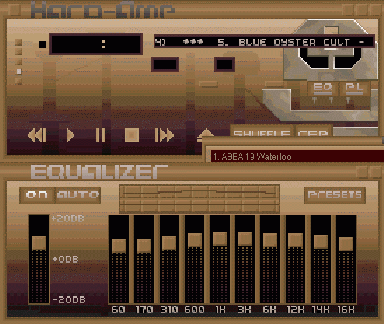 Above is a screenshot of the neat Hardwar skin for WinAmp. It was designed by our very own talented Quark. Great going, Quark.
To use the skin you must download the free WinAmp music player, if you don't already have it. It's well worth a try. I think it's the best MP3 player out there.
Next you need to download the skin. Put the zipped skin right into WinAmp's "skins" folder. Don't unzip the skin. WinAmp will take care of things. Now you can select the skins with WinAmps "preferences|skins" menu.
THANKS QU[A]RK !!