THE MOTH
WEAPONS
SURVIVAL
LIFE ON TITAN
DOWNLOADS
SITE SERVICES
LINKS
ONLINE PLAY
OFFLINE CHALLENGES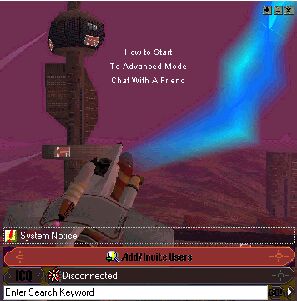 We all have Jim Kluza to thank for creating the above Hardwar themed skin for ICQ. You can download this skin here.
This zip file includes instructions, the theme, and a shortcut to ICQ Plus. You'll need the free ICQ Plus to apply the theme.
You can get the ICQ messaging program at http://www.icq.com/ . ICQ Plus that applies the skins is found at http://www.icqplus.org/ .
Thanks, Kluza.
Download Hardwar ICQ Skin