Map View (Downtown Crater)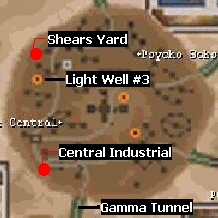 Central Industrial represents a whole new way to interact with Hardwar's economy. They produce the machine tools required to manufacture various finished goods, like weapons, from base goods, like Gems. Now you can open your own factory.
Central Industrial is located in the Downtown Crater near the entrance to the Gamma tunnel in the complex with Syd's Workshop. It's near the crater wall with the hangar door facing between the crater wall and toward the Gamma tunnel entrance. Just head to Syd's and look toward the crater wall toward the tunnel.
You can also use the new Terminal Interface to target Central Industrial and fly right to it. Just enter target central industrial. More Terminal Interface details here.
Central Industrial buys MachParts and Sheet Metal by the ton. They also buy CompComp and Plastics, as well as, Food. It takes a lot of MachParts and Sheet Metal to get them to produce machinery.
Central Industrial sells the machinery necessary to process finished goods. The current machinery available is:
Munitions Machinery ($46,125) -- Make your own weapons.
Components Machinery ($31,500) -- Make your own MachParts, CompComp, and Cells.
Ore Processor ($21,375) -- Make your own Sheet Metal and ExMetal.
Distiller ($28,125) -- Turn Pure Water and Chemicals into Alcohol just like Waterfront Booze.
Narcotron ($67,000) -- Make your own Narcotics. This is the most profitable manufaturing on Titan.
The above machinery can be purchased and installed in your hangar as described on the Manufacturing Page.