THE MOTH
WEAPONS
SURVIVAL
LIFE ON TITAN
DOWNLOADS
SITE SERVICES
LINKS
ONLINE PLAY
OFFLINE CHALLENGES

Thanks to Jeff for helping us quickly find and fly this prize.
PROS

CONS
&nbsp Best speed on Titan by far with a top speed of 514.

&nbsp Good turning radius for the speed, unlike the wide-turning Neo-Tiger.

&nbsp Even with Largest Pod and Drone, the Swallow is still the fastest Moth on Titan. Move over Neo-Tiger. This is the new "Trading Moth".


Can't be equipped with a Laser Turret.

Can't fire the nuclear missiles.


(Thanks to Blaze for pointing this out)

Very pricey at nearly 50K.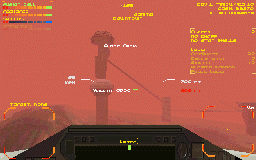 Click the image above for a full-sized screenshot. More pix available on the Screenshots Page.
Inside the Swallow


You can try out this moth by "hopping" into one found at Riverside Construction. Moth hopping is enabled in the offline game for these Moths (and, only these Moths). You can start out as an "Agitator" and start at Riverside Construction. Get out of the Neo-Tiger and hop in the Swallow. We can all thank Jeff for first sharing this location with us.



There are three other locations where you can jump into a Swallow: Waterfront Booze, Riverside; Alpha Construction, Alpha; and Highrise Construction, Highrise. If you want to buy the Moth and truly make it yours, you must fly to any Moth dealer, like Downtown Moths or Highrise Motors, and buy it. It appears on their "sell" list when you fly it in.



This is a pricey Moth, costing nearly twice the price of a Neo-Tiger, but makes up for this with both superior speed and toughness. You might want to consider buying a Neo-Tiger or Moon Moth as an initial upgrade so you can improve your money making to afford a Swallow.



The Swallow is a real "pilot's" Moth. You can't fit it with a Laser Turret, so make sure you can fly well enough to keep an enemy in sites. Not the best Moth for multiple attacks, but what the heck, you can always outrun them and take quite a beating in the mean time. I like having a turret for multiple attackers so I can be peppering one with laser fire while targeting another.


STATS:
| | |
| --- | --- |
| COST: | $49,195 |
| TRADE-IN: | $20,000 |
| SPEED: | 514 |
| TURN: | Medium |
| HULL: | Tough |
| WEAPONS: | 6 Bays/NO Laser Turret |
| PROFILE: | Very Low |
Thanks to Blaze for some of the stats and early experimentaton.
---
Get Swallow Skins
---
---