Click images for a larger, more detailed view in a separate window. Please be patient while thumbnails load.
Occurs around three days after Mission 6.
The Gang Boy mission isn't related to the plot directly, but will give you a needed Fusion Cell. If you choose to ignore the Gang Boy mission, it will have no effect on the rest of the game. The rest of the plot will still continue to run.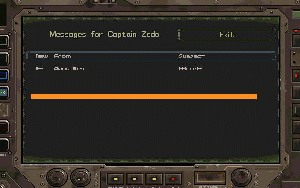 Somewhere around day eighteen you'll recieve a message from "Gang Boy" with a subject entitled *Help*. Gang Boy's going to give you a Fusion Cell if you play your cards right. Heck, even if you've already gotten a Fusion Cell, having another to sell for major blag would be nice.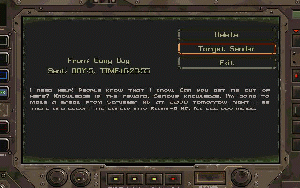 Read the message. It arrives around eight in the morning and tells you that he needs an escort at midnight the following day. You've got a day and a half to get Laz and Klamp clemency. Of course, the wise have gotten this earlier. All you have to do is show up at Scrubber's Headquarters in the Highrise Crater at midnight the night after you recieve the message.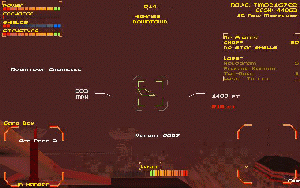 You can target him and Scrubber's by clicking the "Target Subject" button in his message. Save his message until you've got the Fusion Cell. Just show up and follow the guy from Highrise through Resevoir into Riverside and to Klamp headquarters.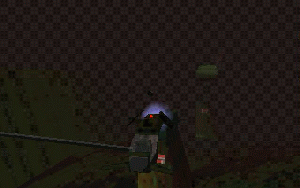 Above is a picture of Gang Boy entering the Riverside Tunnel. Yours truly is to the rear upper-left.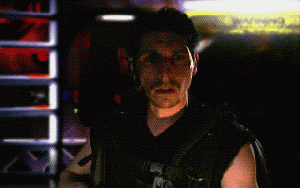 Once inside you'll see a video and once done you'll find that your ship has a Fusion Cell. Your previous Cell is just gone. Who cares? No more Light Wells and Fire At Will. Power Forever. You're about to get a lot of messages that are informative, but not necessary.
Tips: This mission has many things to consider:

(1): The scenario above assumes you're on good terms with both the Lazarus Family and the Klamp-G. If you're still on the bad side of the Lazarus Family, you can enter Riverside through the Gamma Crater, target Gang Boy via his message, and just wait for him to arrive. This avoids being shot at by Laz Patrols. No one shoots at Gang Boy. He's just there to drag you through enemy territory. This is why I like targeting the Laz Secret Base in Mission 6. It keeps my record clear with Klamp-G enabling me to follow Gang Boy into their headquarters.

(2): If you don't have amnesty and the Gang Boy mission may not be survivable for you, don't fear. You don't have to complete the Gang Boy mission to get a Fusion Cell. You'll be able to buy them at Breaker Makers and Trading Posts in a day or two. You can also save the initail Gangboy message and target him later after you've gained the amnesty needed to get to him. You do not have to enter the hangar right behind Gang Boy as other HardWar walkthroughs have stated. You can go to his destination hangar at your convenience and still get the Fusion Cell.

(3): Don't give up a perfectly good (and profitable) Cell. After Gang Boy generously gives you his Fusion Cell, the Cell you were carrying just disappears. GET GREEDY. Make sure that the Cell your using for this mission is a Cell #1. Here's what you do. After getting Gang Boy's message you have a day and a half to prepare. Around ten HardWar hours (10 real-time minutes) before you're to meet up with Gang Boy, go to a Breaker Maker near your hangar and buy a Cell #1. Take it to your hangar and fit it to your Moth. Take the Cell from your Moth (hopefully a Cell #3 or even a Fusion Cell) and go back to the Breaker Maker and sell it. If you've already got a Fusion cell, you may want to leave it in your hangar and close your hangar to the public until you come back to sell your superfluous Fusion Cell. Things could go wrong and you certainly don't want to be without a Fusion Cell when you've had one. It will break your heart and you need one later on anyway.(?)

(4): I've noticed something strange. Sometimes when you are on good terms with the Klamp, but Laz is gunning for you, Gang Boy doesn't take his usual route. I've had this happen maybe five times out of the dozens of times I've gone through the plot. On these occasions Gang Boy flies TO the Highrise Crater to the Lazarus headquarters. I assume this is the game's attempt to prevent you from exercising the plan in (1) above. It's not consistent. On this route, he comes from Skinner HQ, Alpha Crater and goes through Downtown to Highrise and the Laz headquarters. Either way, he coughs up a Fusion Cell and that's the only thing really important about the Gang Boy Mission.

(5): You can just ignore the Gang Boy Mission if you already have a Fusion Cell and don't want to mess with it. The rest of the plot seems to go ahead on schedule. If you ignore or abort the Gang Boy Mission you can find Fusion Cells for sale at Trading Posts and Breaker Makers for $21,000 plus installed. Other HardWar walkthroughs I've seen don't include this important fact.
NOW WHAT?

After the Gang Boy mission, there's a lull for a few days. The best thing to do now is to experiment and build a fleet of Moths in case you decide to play forever instead of completing the final mission. If you use an Afterburner for the final runaround now's the time to get it. I dont' use the Afterburner myself, but it can come in really handy with all of the running around you'll have to do.

You'll need one piece of Matter or Trigger for the next mission. If you don't already have some you'll need to get some. You can probably buy it at any Trading Post by this time and take it to whichever one of your hangars is closest to Psycho Bob's 1.