Click images for a larger, more detailed view in a separate window. Please be patient while thumbnails load.
Occurs around day 10 to 12
Your clue that another mission is coming up are a couple of messages from someone called "Concerned". The second message from Concerned has a subject title of "Violence". Exactly one Hardwar day from receiving that message, the plot will get hopping again. Getting Laz amnesty is wise thing to do in preparation for the upcoming missions. You will have to be fitted with a pod and drone to complete two of the next three missions.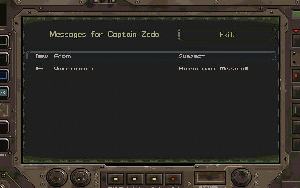 Above is the message you will recieve announcing the next mission. It's subject is *Important Mission*. It will tell you to go to the Mines Crater and pick up a "Mystery Package".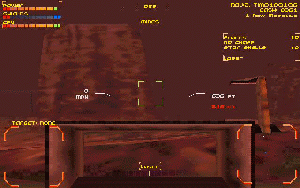 The Mystery Package is on top of a steep bluff near the Light Well. Go up there and pick up the package with your drone. You'll need to have a pod and drone fitted beforehand. You can target the Mystery Package by using your "y" key to cycle through targets around the Mines Light Well (Light Well #9). You can also use the Radar Range function of your Nav Menu ("n" key).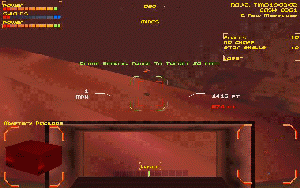 When your drone has brought the package into your pod a radar cloaking device is immediately installed on your Moth. It is very important that you have the type of Moth you want to finish the game with at this time. You cannot remove and transplant the cloaking device.
The cloaking device keeps you from showing up on other pilots' radar. It is activated anytime your relative altitude is 100ft or lower. When the cloak is active, the border of your radar will flash red.
You'll be instructed to go to Psycho Bob's 1 after the cloaking device is installed. It pays to have Psycho Bob's 1 locked into your Buildings Menu beforehand. The quickest way to get there is to go through Haven/Alpha/Downtown. Head toward the Highrise tunnel and Psycho Bob's 1 will be just to your left past the complex where "The After Dark" is located. The hangar door faces roughly toward the Highrise tunnel.